What to Expect
We are excited about your decision to be our guest at Calvary Baptist Church. We know how it feels to visit a church for the first time, and we want to be as helpful as we can to make your experience a memorable one.
Service Times
Sunday:
10:30am Worship Service
6:00pm Bible Study
6:00pm Calvary Kids Bible Club
Wednesday:
7:00pm Worship Service
Arrival
When you arrive at Calvary Baptist Church you will notice that the parking is located beside and in front our church building. There is no assigned parking, so park where you are most comfortable. There will be a set of white double doors that lead into our main sanctuary with the steeple close to where you parked. One of our friendly greeters will be there to welcome you to Calvary Baptist Church.
Nursery
Families with nursery age children will be thrilled with our Church Nursery. A clean, attractive area staffed with carefully screened, capable, loving workers will set your mind at ease as you enjoy our services.
Dress
At Calvary Baptist Church we understand that every church is unique, and guests usually don't like to be surprised. We hope this information will be of help. On Sundays we still like to wear our "Sunday Best". Many of our men will wear jackets and ties, and most of our ladies wear dresses. In the mid-week service many of our men will wear casual pants and a golf style shirt, and our ladies will wear skirts and blouses. We want our guests to feel comfortable when attending our services, so please understand that there is no dress code. Come and join us this Sunday. You will feel right at home, as our guest, this weekend.
Worship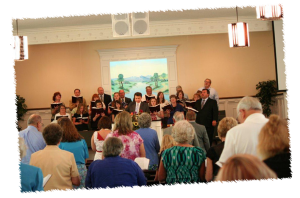 Our traditional family church services are filled with soul stirring hymns and choruses. Our pastor, Kevin Hembree, faithfully preaches relevant, straightforward, powerful messages.
Offering
each week at Calvary Baptist Church there is a time to worshiping God through the giving of tithes and offerings. This is an act of worship for the members of our church, as a guest, please do not feel any pressure to participate.
We look forward to seeing you this Sunday!